For UC Berkeley Faculty and Graduate Students
The Asian American Research Center (AARC) invites proposals from current UCB faculty and graduate students working on scholarly, community engagement, and/or creative projects that focus on Asian American populations. We seek projects that center Asian American perspectives, agency, and epistemologies. We are especially interested in funding projects that engage communities as partners and/or involve Asian American populations. Faculty and graduate student awards are up to $5,000. More information and the applications are available online.
Pipeline for AANHPI Community Health (PACH)
The PACH Initiative is a community-campus collaboration launched to develop a community health workforce pipeline that will create a new cadre of health care leaders for the Asian American, Native Hawaiian, and Pacific Islander (AANHPI) community. It is led by the Asian American and Asian Diaspora Studies Program, Asian American Pacific Islander Health Research Group, and the Asian American Research Center. PACH is funded by the California Endowment.
The 21-22 report on PACH to the California Endowment is available here.
The Asian American Research Center is partnering with the Pipeline for Asian American Native Hawaiian Pacific Islander Community Health (PACH) Program to offer two undergraduate awards of $500 each spring to UC Berkeley students. The funding is made possible by a California Endowment Grant. More information.
Toraji Prize in Korean American Cultural Studies
This annual prize is for UC Berkeley graduate and undergraduate students from any department who are researching and/or writing about Korean American literature, film, and cultural studies. Topics in history and politics will also be considered.  More information.
Loni Ding Archives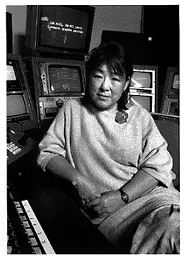 AARC is partnering with the Ethnic Studies Library at UC Berkeley to preserve and digitize the Loni Ding and Center for Educational Telecommunications Collection, which is housed at the library and will be available for public use. The collection contains the comprehensive works of Loni Ding as well as her extensive research files from her three-decade career. Ding was a renowned filmmaker, activist, scholar, and educator, and she was considered by many to be the "godmother of ethnic filmmaking." Over the span of her career, she produced over 250 broadcast programs which earned her international awards and recognition. The archive documents this scholar-activist's lifetime of work to increase the representation and opportunities for filmmakers of color and to change the face of public history. More information on the collection and Loni Ding is available here.



Violent attacks against Asian Americans have risen exponentially since the advent of the COVID-19 pandemic. Public debates often describe anti-Asian violence as a unitary phenomenon resulting from nation-state exclusion, drawing a direct line between the historical legal context and the violence of today. A predominant response is to assume that this violence will end through more state-sanctioned surveillance, policing, and the designation of cases of anti-Asian violence as hate crimes. But these dominant narratives seem to put too much weight on the concept of hate and ignore the racial and gendered violence of criminalization, thereby obscuring complex reasons for this violence and suggesting limited responses. As a result, anti-Asian violence tends to be most legible as a mere effect of individual prejudice, rather than as a condition of structures of systemic racial violence or global conditions of war, racial capitalism, and empire. This project will develop an in-depth examination of the underexplored and multifaceted conditions of this violence, the dominant policy responses to this violence, and possible responses that would be attuned to both heterogenous Asian American communities, and to the question of Asian American relationality with other groups. The project will lead to a white paper critically mapping both origins of and responses to anti-Asian violence.
PI: Leti Volpp, Berkeley Law
Co-Investigators: Laura Kang, UC Irvine; Lee Ann Wang, UCLA,; Susette Min, UC Davis)
UC Berkeley working group members:  Carolyn Chen, Asian American and Asian Diasporic Studies (AAADS)' Catherine Ceniza Choy, AAADS; Lok Siu, AAADS, Colleen Lye, English; Andrew Way Leong, English; and Mel Chen, Gender and Women's Studies.
This project is funded by University of California Multicampus Research Programs and Initiatives, Center for Race and Gender, Othering and Belonging Institute, Asian American Research Center
Cultures and Communities Project
To belong in a land away from home is a diasporic dream. What does belonging mean and how does one belong? This project looks deeper into these questions by reframing different ways in which belonging can manifest. What is culturally significant to diasporic communities? What does their culture and rituals look like? How do they celebrate their culture? The project showcases the rich history and traditions of diasporic communities in California and educate the public about their history and culture. This project aims to empower the underrepresented diasporic communities by giving them visibility and an equitable space. We want to bring visibility and cultural fluency about these communities.
In the first phase, we plan to showcase the Sikh, Afghan, Yemeni, Eritrean, and Ethiopian diaspora. We will be looking at these diasporas through the intersectional lens of gender, religion, race, and culture. We hope to include cultural and religious events, rituals, and festivals of selected communities and showcase it in a photo-exhibit and curate short video with voice-over from the student researchers. After the photo-exhibit, we plan to make it a traveling exhibit, taking it to schools, other libraries on campus and across the UC system. We plan to invite middle and high school students to this event as well.
Project Director: Harpreet Mangat
The Cultures and Communities Project is based at Berkeley Interdisciplinary Migration Initiative and supported by Asian American Research Center, along with other campus units.