Founded in 1976, the Graduate Fellows Program (GFP) provides Berkeley doctoral students with an interdisciplinary, intergenerational, and inclusive environment for research and training. 
The Program plays an integral part in training scholars to address the pressing challenges that face California, the nation, and the world.  It has been especially effective in enabling students from underrepresented groups to complete their doctoral studies and obtain faculty positions at top academic institutions around the United States.
In addition to receiving monthly stipends, Graduate Fellows enjoy access to a rich array of activities that promote mentoring relations with faculty, collaboration with peers, and the exchange of ideas with a broad audience of academic and community leaders. The GFP offers doctoral students the opportunity to work in an intensive, small-group setting on issues of common interest.   Fellows from a range of disciplines support one another's research, make presentations at conferences and colloquia, and publish working papers.  The GFP creates the conditions for forging successful scholarly careers and assuming positions of intellectual leadership in the professoriate.
The unique strength of the program is that it is built around the skills, work, and insights of its graduate student participants.  It is organized around and depends upon the collective intelligence of each Fellow in the cohort working together to produce and share work as well as critiques and reflections on the work of others. The program has developed and changed over time, but the foundations are anchored in two understandings:  1) Financial and individual support, alone, are not adequate to help Fellows develop their research and writing skills and to hone them for success in getting publications and preparing for jobs and other professional objectives; 2) The program works by binding individual financial support with the practical skills, knowledge, and motivation that come from doing research and writing in a shared and collective setting; learning how to research and write is integrated with and inseparable from being readers, listeners, and active critics and supporters of the other Fellows' research.
Using these training techniques, the Graduate Fellows Program has enjoyed an unparalleled record of success.  The Program has enabled more than 200 students to complete their doctorates and carve out distinguished academic careers.  The Program is uniquely situated to nurture the next generation of leading scholars.  Berkeley's graduate programs attract the best and the brightest faculty and students, and the campus is home to an astonishing number of top-ranked departments.  As a result, the Graduate Fellows Program can bring together students of the highest caliber across a range of disciplines and link them to faculty who are doing groundbreaking research.  ISSI has drawn together these outstanding resources to create a legacy of enduring significance.   
The Graduate Fellows Program benefits from the research and training activities of the Asian American Research Center, Center for Research on Social Change, the Latinx Research Center, the Berkeley Center for Right-Wing Studies, the Center for Ethnographic Research, the Berkeley Center for Social Medicine, and the Joseph A. Myers Center for Research on Native American Issues -- all affiliates of the Institute for the Study of Societal Issues.
To make a gift in support of the Graduate Fellows Program, please visit the online giving site and in the "In Honor of:" section list "Graduate Fellows Program".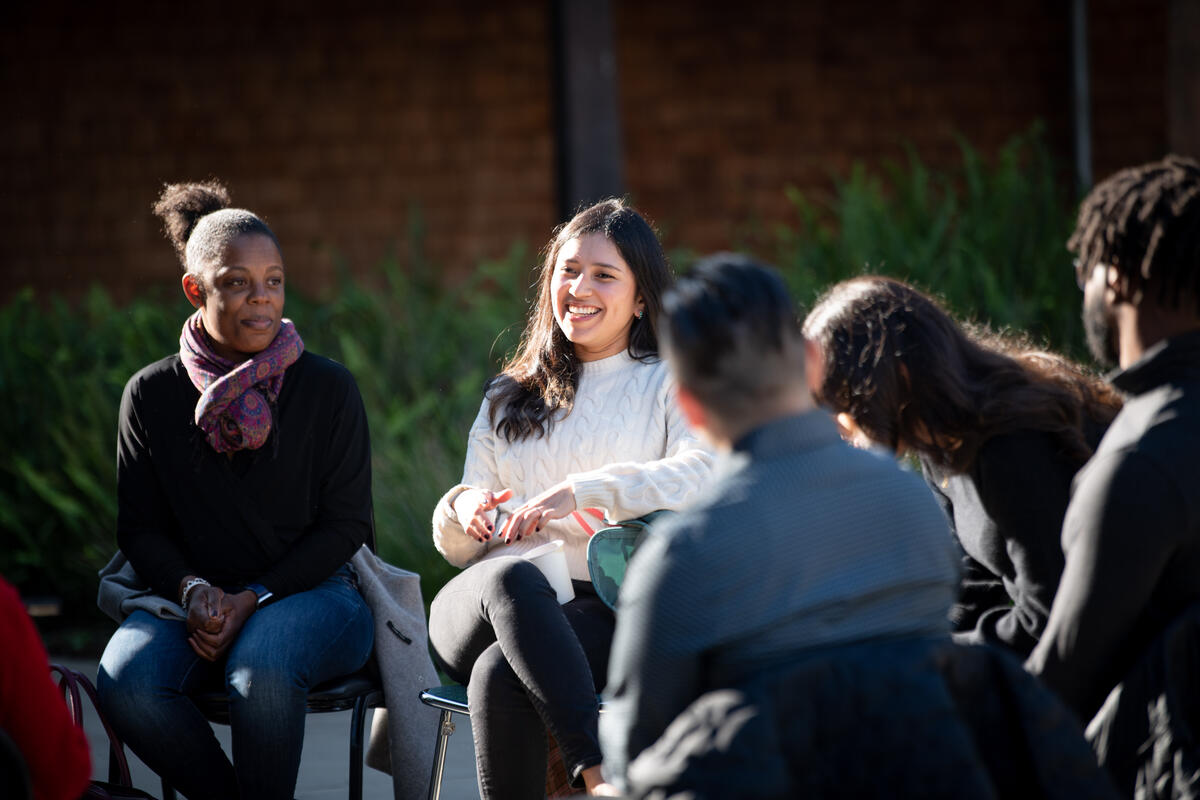 Program Overview and Training Content
The Institute for the Study of Societal Issues serves as the research and teaching base for the Graduate Fellows Program. Fellows attend a weekly two-hour seminar in which they receive practical training in theory, methods, and policy work. The core emphasis is on field research and the production of scholarly work geared towards a broad understanding of the patterns of social change in the structures, social practices, and culture of U.S. cities. The training draws on insights from a wide array of fields, including sociology, urban anthropology, political science, urban and regional planning, geography, education, history, public policy, law, social welfare, and public health. Some Fellows also participate in ongoing research conducted by the Institute and its affiliated faculty.
Graduate Fellows can participate in the GFP for up to two years.  During the first year, the focus of the training program is on the development of a working paper based on dissertation research. Fellows will receive training in selecting and framing a research problem, situating the research within the relevant scholarly literature, choosing the appropriate research approach and methods, conducting preliminary research, and drafting a research working paper. Papers are drafted by the beginning of March and completed by the end of the academic year, after which they are added to the California Digital Library, the University of California's "eScholarship Repository." In addition to regular attendance at weekly seminars, Fellows are expected to provide and receive critical feedback on other Fellows' works in progress; and be active and contributing members of an interdisciplinary community of young scholars. In the spring semester, first-year Fellows make a public presentation of their working papers at an ISSI-organized colloquium, panel or conference. The presentation provides an opportunity, in conjunction with development of the working paper, to receive feedback and build skill at crafting a rhetorically and academically effective documentation of one's research.  
Graduate Fellows who are active program participants and successfully complete the requirements during the first year (i.e., regular attendance, completion and presentation of a research working paper) are eligible to apply for a second year as a Fellow. During the second year, Fellows continue to meet weekly to present and receive constructive feedback on their individual research and writing projects and skills training in professional development to prepare them for the academic job market. They also work with Institute staff to plan a spring colloquia series featuring social change scholars whose work is of interest both to the Fellows and to the wider campus community. Throughout the two years, Fellows are eligible for shared office space at ISSI to facilitate their research and writing.
Eligibility, Stipends and Application Information
Only registered UC Berkeley doctoral students who have completed at least three years of graduate study by May 2022 are eligible for this program. While it is not a firm requirement, most of the Fellows have passed their qualifying exams prior to entering the program. Click here for advice on preparing for Qualifying Exams from Graduate Fellows Program Co-Director David Minkus. 
The GFP is committed to diversity in graduate education and the academy more broadly.  Students from groups historically underrepresented in higher education (such as African American, Native American and Latinx/Chicana/o) are especially encouraged to apply. We are looking for applicants
with the potential to bring to their academic research the critical perspective that comes from their understanding of the experiences of groups historically underrepresented in U.S. higher education or underserved by academic research;
who need the additional training and mentoring offered by our program; and
who are committed to doing research to advance social justice or social change.
Stipends
A modest stipend of between $10,000 and $15,000/year will be offered to those who do not have other fellowship funding. The exact amount will be announced when acceptances are issued. Funding for the stipends is provided by Graduate Division and the Division of Social Sciences. Fellows who have $15,000 or more in fellowship funding from other sources receive a token amount. Tuition/fee remission is not covered by this fellowship.
Application
View the instructions for the application here (23-24 version coming soon, but it will be similar!)

Complete the 22-23 online application form here ('23-'24 information coming early in 2023).

Contact
For questions or additional information please contact Dr. Deborah Lustig, Co-Director of the Graduate Fellows Program: dlustig AT berkeley.edu.
Selection Process
There are two stages to the selection process:
Stage 1: Applications for the Graduate Fellows Program are due via the online form linked above before 5PM on Monday, March 28, 2022. Applicants will be notified by Friday, April 22 whether their application has been selected for the second and final stage of the selection process. 
Stage 2: Applicants who have been selected for the second stage will be provided with critical feedback on their research statement. The second draft of the application is due Monday, May 9th by 9am. Applicants will be notified by Friday, May 27 if they have been selected to join the Graduate Fellows Program.
Application Workshop
We will be conducting a workshop via Zoom for all graduate students interested in applying for the Graduate Fellows Program either this year or in a future year. Attending the workshop is not required.
Graduate Fellows Program Application Workshop
Information on 2023 workshop coming soon.
If you require an accommodation for effective communication (ASL interpreting/CART captioning, alternative media formats, etc.) in order to fully participate in this virtual event, please contact issi@berkeley.edu with as much advance notice as possible.