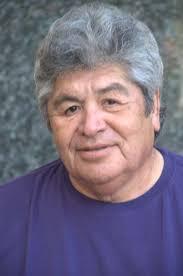 Joseph A. Myers, a Pomo Indian of northern California, was born on January 16, 1940. He served as the Executive Director of the National Indian Justice Center (NIJC), a non-profit corporation in Santa Rosa, California. In addition, Mr. Myers was a founding board member of the California Indian Museum and Cultural Center.
Mr. Myers began his career as a law enforcement officer in Oakland. He was the first known California Indian to join the California Highway Patrol as an officer. He went on to receive his J.D. from Berkeley Law. From 1976 to 1983 Mr. Myers served as associate director of the American Indian Lawyer Training Program, creating and managing its tribal court advocate training project. During this time, he collaborated with the California Indian Legal Services to bring a lawsuit against the Bureau of Indian Affairs on behalf of his mother Tillie Hardwick. This case reversed the termination of 17 California Indian Rancheria communities. Mr. Myers contributed significantly to the improvement of education, justice and the quality of life in Indian country. For the past 29 years he lectured in Native American Studies at UC Berkeley, teaching courses on federal Indian law and tribal governments and working to develop course content on Native California. The Joseph A. Myers Center for Research on Native American Issues, based at the Institute for the Study of Native American Issues, is named after Joe Myers to recognize his extensive service to Indian country. He served as volunteer co-chair of the center from its founding in 2010 until his death in December of 2020. 
He left us with an amazing legacy of achievement and caring, which we will strive to uphold and build upon in the years to come. This event, held on September 25, 2021, was an opportunity to come together to honor his legacy and reflect on his many contributions to campus and beyond.
Program
Welcome: Carol Christ, Chancellor, UC Berkeley
Speakers:
Martín Sánchez-Jankowski, Chair, Joseph A. Myers Center for Research on Native American Issues, and Professor, Sociology, UC Berkeley
Shari Huhndorf, Class of 1938 Professor, Department of Ethnic Studies, UC Berkeley
Carmen Foghorn, Director Emerita, American Indian Graduate Program, UC Berkeley
Christina Tlatilpa Inong, ASW, Program Specialist, California Indian Museum and Cultural Center, and former student of Professor Myers
Karen Biestman, Associate Dean and Director, Native American Cultural Center, Stanford University
Raquelle Myers, Joe's daughter and Executive Director, National Indian Justice CenterNicole Myers-Lim, Joe's daughter and Director, California Indian Museum and Cultural Center
The program was followed by a reception in the courtyard, catered by mak-'amham (Cafe Ohlone)
Sponsors:
Joseph A. Myers Center for Research on Native American Issues, Native American Student Development, Native American Studies Program, Ethnic Studies, American Indian Graduate Program,  Institute for the Study of Societal Issues