2023 Thomas I. Yamashita Prize Winner: reelaviolette botts-ward
reelaviolette botts-ward is a homegirl, artist, and nontraditional community curator from Philadelphia, PA. Currently a Postdoctoral Fellow with the REPAIR Project at UCSF, she researches Black women's healing spaces in Oakland as radical sites of health care and spiritual well-being. As founder of blackwomxnhealing, ree curates healing circles, exhibitions, courses, and research for and by Black womxn. She remains invested in making her academic work accessible to community audiences, using art, poetry, and the digital humanities as tools of translation. Her first book, mourning my inner[blackgirl]child (Nomadic Press, 2021), uses poetics as praxis to explore embodied trauma, ancestral grief work, and spiritual healing. Her work has been featured by Elle Magazine, The Griot, and the NAACP, and supported by the UC Berkeley Arts Research Center and the Alliance for the Arts in Research Universities, among others. She received her PhD in African Diaspora Studies from the University of California, Berkeley, her MA in African American Studies from UCLA, and her BA in Sociology and Anthropology from Spelman College. She is currently teaching The #BlackFeministHealingArts Communiversity Course in UCSF's Medical Anthropology department. 
2023 Thomas I. Yamashita Prize Winner: Frankie Free Ramos
Frankie Free Ramos is from Yauco, Puerto Rico, spent much of her childhood in San Diego, and has lived in the Bay Area since moving to Berkeley for undergraduate studies in the 1990s. After obtaining a teaching credential and Masters in Teaching from the University of San Francisco, Dr. Ramos worked for over 10 years as a teacher and college counselor, and was a founding member of a radical small school in East Oakland. She earned a PhD from UC Berkeley in Education Leadership, Policy and Politics. Her scholarship and activism focus on teacher and community organizing, social movements, and decolonial and abolitionist praxis. She has been active in struggles for the self-determination of Puerto Rico, freedom for political prisoners and an end to privatization, neoliberalization, and austerity in education. She currently serves as the Director of Campaigns and Organizing at CURYJ (Communities United for Restorative Youth Justice), a community based organization in Oakland, CA, working to end youth incarceration and unlock the leadership of young people to dream beyond bars. Dr. Ramos is raising three children and a puppy with her partner. She enjoys spending time with them in nature, going on family trips, and laughing together.
2023 Thomas I. Yamashita Prize Honorable Mention: Giovanni Batz
Giovanni Batz (Maya K'iche') is an Assistant Professor in the Department of Chicana/o Studies, University of California, Santa Barbara. From 2020-2022, he was a President's Postdoctoral Fellow in the Department of Native American Studies at the University of California, Davis. He was also a 2018-2019 Anne Ray Resident Fellow at the School for Advanced Research in Santa Fe, New Mexico. He earned his PhD in Anthropology from the University of Texas - Austin. Batz's research and activism focuses on extractivist industries, Guatemalan history, Maya resistance, historical Maya displacement and transnational migration from Central America to the US. He has also served as an expert witness in asylum cases. Batz is the author of La Cuarta Invasión: Historias y Resistencias del Pueblo Ixil, y la Lucha contra la Hidroeléctrica Palo Viejo en Cotzal, Quiché, Guatemala (2022). The book is open access and can be downloaded here: https://avancso.org.gt/publicaciones/proximas-publicaciones/ His other publications can be accessed here: https://www.researchgate.net/profile/Giovanni-Batz-2 
2022 Thomas I. Yamashita Prize Winner: Jason Okonofua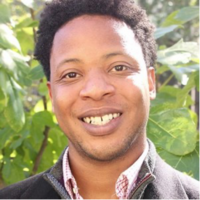 Jason Okonofua is Assistant Professor of Psychology at UC Berkeley; he works to mitigate the effects of stereotypes in education and criminal justice. One context in which he has examined these processes is that of teacher-student relationships and race disparities in disciplinary action. By investigating basic processes that contribute to misinterpreted and misguided disrespect among teachers and students, he aims to develop novel interventions that empower teachers to reach their teaching goals and interventions that help students – especially racially stigmatized youth – succeed in school and reduce their risk of discipline problems.
He also designs and tests large-scale psychological interventions for school administrators, jails, prisons, and court departments (e.g., probation offices, parole offices). One of his latest interventions significantly cut suspension rates for a sample of 13,210 students. Another one of his latest interventions significantly cut recidivism rates for a sample of ~20,000 adults on probation and parole. Both large-scale interventions targeted the mindsets of the people in positions of power (i.e., teachers and officers) to shift the way they interacted with the individuals under their supervision.
Outside of academia, Jason is President of the Board of Directors at the National Center for Youth Law, a premier national law organization that advocates for youth. He is also an advisor for Perception Institute and for the Project for Education Research That Scales.
2022 Thomas I. Yamashita Honorable Mention: Nazineen Kandahari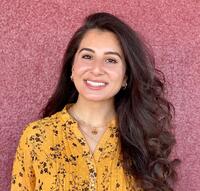 Nazineen Kandahari is an Afghan asylum-seeker. She is a medical student at the UCSF School of Medicine in the Program in Medical Education for Urban Underserved, and recently completed her Masters of Science through the Joint Medical Program. Nazineen graduated from UC Berkeley in 2017 with honors in Public Health and Molecular & Cell Biology.
Nazineen is the founder of Afghan Clinic, a research and health education initiative dedicated to both addressing the needs and nurturing the strengths of the Afghan people. She intentionally selected a team of Afghan refugee women and immigrant students to mentor and train. With them, Nazineen organizes health education forums and support groups for Afghan refugees. She has established the organization as a trusted resource among local resettlement agencies and refugee clinics. 
In addition, Nazineen is a committed researcher. She has conducted extensive clinical and health disparities research, including a community-based initiative to promote cancer screening among the Latinx community, and volunteered for human rights clinics, where she helps to conduct forensic medical evaluations. She was a Human Rights Center and Albert Schweitzer Fellow in 2020 and named by the Journal of Public Health Management & Practice a "Student Who Rocked Public Health in 2021."
2021 Thomas I. Yamashita Prize Winner: Phenocia Bauerle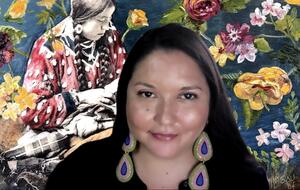 Phenocia Bauerle is the first and current director of Native American Student Development (NASD) at UC Berkeley and a citizen of the Apsáalooke (Crow) Nation of Montana. Prior to working at Berkeley, she served as Director of the Diversity Awareness Office at Montana State University. The first full-time staff person in her current position, she has spent the last seven years working to build support for Native American students at UC Berkeley and to bring Native issues to the center of campus priorities. Currently, she serves on the Berkeley NAGPRA committee, the Berkeley Native American Advisory Council, the UC President's Native American Advisory Council and co-chairs the Undergraduate Outreach and Retention Working group for PNAAC. 
Above and beyond Phenocia's phenomenal dedication to and support for students, she has influenced many other positive changes in the UC system. Although the University has long said they would like to adopt a university-wide land acknowledgement, the progress has been slow. Phenocia worked directly with the Muwekma Ohlone tribe and other descendants on whose territory UC Berkeley sits. She dedicated years to developing a living NASD land acknowledgement statement, which centers on the partnership between the tribe and NASD. The Chancellor and over 15 other offices on campus now use this land acknowledgement. In 2017, Phenocia co-organized UC Berkeley's historic first Tribal Forum, hosting 120+ tribal members and representatives of 30+ tribes for a two-day, facilitated conversation for California Indian tribes to discuss building trust with Berkeley and future partnerships. The forum resulted in a path forward for Berkeley to finally address its long overdue responsibilities under the Native American Graves Protection and Repatriation Act (NAGPRA). Building on the tribal forum, Phenocia has served as a member of the UC Berkeley NAGPRA Committee. This past year, the committee saw their advocacy result in the successful hire of a full-time NAGPRA Liaison.
2021 Thomas I. Yamashita Honorable Mention: Boun Khamnouane
Boun Khamnouane was born in Phongsali, Laos. His family fled communist persecution and migrated to the United States in 1986. In 2002, he received his Bachelor of Arts in South Southeast Asian Studies from the University California, Berkeley. While at Berkeley, he was a co-president of LASR (Laotian American Student Representatives) and founding member of the Southeast Asian Student Coalition (SASC), the first such organization at the University of California and likely the first in the US. In addition to supporting college students, Boun and the other SASC leaders started a summer institute for Southeast Asian American high school students that continues to thrive two decades later. Boun is still actively involved with SASC, particularly with supporting and mentoring current SASC members as well as fundraising for SASC.
Since he was in college, Boun has worked for the East Bay Consortium/Cal-SOAP, helping to increase the number of students finishing high school and enrolling in postsecondary institutions; he is now the Associate Director. He is very passionate about educating rural and urban youth about life options. In his spare time, he tends to his aquariums (saltwater and freshwater) and volunteers to coach his son's basketball team. But most importantly, he loves spending time with his lovely wife, daughter and son.
2020 Thomas I. Yamashita Prize Winner: Bernadette Lim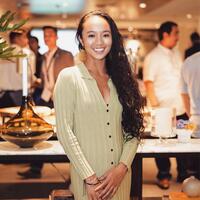 Bernadette (Bernie) Lim is the daughter of Filipinx-Toisan immigrants. She is a 3rd year medical student at UCSF School of Medicine and recent Masters graduate through the Joint Medical Program, a dual degree program with the UC Berkeley School of Public Health. Bernie seeks to re-imagine and work towards a medical and public health praxis that centers community narratives, voices, and experiences. She is the founder of the Freedom School for Intersectional Medicine and Health Justice, an interdisciplinary learning community that has involved 300+ students, faculty, and community members in the Bay Area and across the United States through its bi-weekly gatherings, community site visits, and national fellowship program. In addition, Bernadette created and co-hosts the Woke WOC Docs podcast to amplify the lives of womxn of color in medicine and health justice. In little over a year since its inception, the podcast has garnered 15k+ plays and 600+ subscribers in all 50 states and in 50+ countries across the globe. Most recently, Bernadette founded the Freedom Community Clinic which has served 300+ underserved people of color in the East Bay through its holistic healing clinics and non-profit community wellness programs. Each program seeks to provide whole-person healing directly to communities in need through local non-profit partnerships and pop-up clinics held in spaces where communities already gather and celebrate. Each program combines the strengths of ancestral, indigenous, and holistic healing practices with the strengths of Western medicine for communities at sliding scale rates or free of charge. Bernie graduated from Harvard University in 2016 with cum laude honors and was a Fulbright-Nehru Scholar to India. 
2020 Thomas I. Yamashita Prize Honorable Mention: Will Smith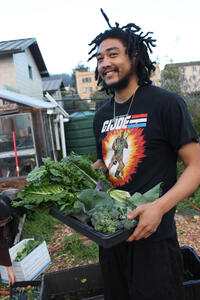 Will is a Black and Korean farmer and food activist in occupied Ohlone tribal territory in the East Bay. As an undergraduate at UC Berkeley, Will's studies focused on agroecology and indigenous foodways.  He graduated in December 2018 with a degree in Conservation Resource Studies in the College of Natural Resources. Within a predominantly white college, Will, with the help of others, fought for students of color to have safe spaces, specifically green spaces, where students can steward the land and reconnect with ancestral practices surrounding food and medicine. This included implementing guerilla gardens in vacant campus spaces, protecting those spaces, and engaging with other students to form a relationship with the land they are on. Will is a Farm Educator at the UC Gill Tract Community Farm and a co-founder of the Black Earth Farms collective, which grows and distributes thousands of pounds of food on a sliding scale. 
2019 Thomas I. Yamashita Prize Winner: Joel Sati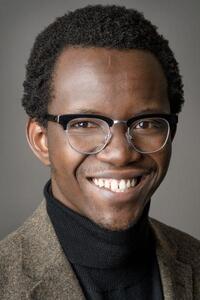 Joel Sati is an immigrant rights activist and scholar. Currently, he is a Ph.D. candidate (Jurisprudence and Social Policy) at the University of California, Berkeley, and a J.D. candidate at Yale University. Although Sati immigrated to the U.S. from Kenya as a child, he learned of his undocumented status when he applied for college. Unable to receive the necessary financial aid to attend a four-year institution, he enrolled in community college and began working with immigrant advocacy organizations on needed reforms. Joel organized protest campaigns in Washington D.C. along with extensive canvassing efforts in Maryland's Montgomery County, playing an integral role in helping secure passage of Maryland's DREAM Act in 2012 as well as Deferred Action for Childhood Arrivals (DACA). Upon completing his Associate's Degree, Joel secured a Skadden Fellowship for legal studies at the City College of New York, from which he graduated summa cum laude. During that time he was a youth organizer for African Communities Together, expanding the base of immigrant activists to include African youth. He also founded Undocumental, a website designed as a forum for the organization and publication of undocumented voices. In 2018 he was awarded a PD Soros Fellowship, funding his continued graduate education. Sati's scholarship focuses on questions of epistemology and how the social organization of knowledge channels how we perceive and respond to the testimony of socially marginalized groups. Sati's concept of "illegalization" draws attention to the fact that, neither "illegal" (in the conventional sense of being criminals) nor undocumented (often they possess reams of documents), immigrants are "illegalized" by policy choices that are within the state's power to alter or undo. Sati's work shows that the "illegalization" experienced by undocumented and other marginalized communities is ongoing, and combatting illegalization requires an intersectional and interdisciplinary response.
2019 Thomas I. Yamashita Prize Honorable Mention: Rosa M. Jiménez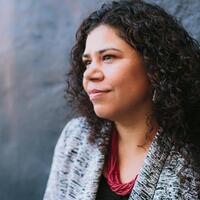 Rosa M. Jiménez is Assistant Professor of Education at the University of San Francisco. Raised in California's Central Valley and the daughter of Mexican working class immigrants, she completing her B.A. from UC Davis. After working for four years as a social studies/bilingual teacher in Los Angeles, she pursued and completed an M.A. in Latin American Studies and a Ph.D. in Education, both from UCLA. Based in the Central Valley and Bay Area, Rosa's impactful community-engaged research and activist work addresses and resists deficit perspectives of Latinx immigrant communities. It asks, how can education support immigrant students to better understand their history and current political climate, take pride in their language/culture, and use education towards social change? Rosa partners with local schools and classroom Teachers of Color to design projects that support their work in teaching immigrant youth language/literacies, culturally relevant curricula, and political consciousness.  At one Central Valley school, she co-designed and co-implemented curriculum about family histories of migration and documented how youth developed academic and critical literacies. Students collected their families' migration stories, wrote them, and then analyzed them for the strengths that their families exhibited throughout their journey. Identifying these strengths plays an important role in helping youth to identify their own strengths and counter the dominant racist and anti-immigrant narratives so prevalent in news cycles.  When youth are able to view their lived experiences as transnational migrants through critical perspectives, it generates spaces of healing, possibility and transformation.  Her work also challenges and transforms the dominant pedagogy and practices of teachers and administrators who work with these youth, helping them to better understand students' and families' "experiential migration capital," which she defines as "the knowledges, sensibilities, and skills cultivated through the array of migration experiences to the U.S. or its borderlands."
2018 Thomas I. Yamashita Prize Winner: Lauren Heidbrink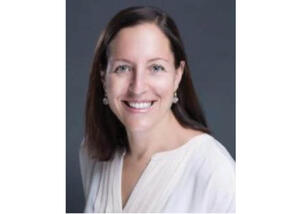 Lauren Heidbrink (Left, with her nominator, Dr. Samantha Gottlieb) is Assistant Professor in the Department of Human Development at California State University Long Beach. Trained as an anthropologist, Lauren's work challenges legal and political ambiguities and provides advocacy for unaccompanied migrant children. Moving between academic, political and social worlds, Lauren has engaged in sustained ethnographic engagement with immigrant communities. Her research with young migrants in U.S. immigration detention and following deportation to Central America challenges xenophobic stereotypes of youth as vulnerable victims, delinquents, or gang members, revealing contextualized understandings of how and why young people are on the move. In addition to sharing this research with policymakers at the U.S. Department of State and USAID, she uses multi-media methods – blogs, podcasts, photo journals, digital stories – that youth collaboratively develop to ensure that youth reach wider and more diverse publics with their ideas, experiences, and expertise. Her collaborative website, Youth Circulations, which draws over 9,000 unique visitors annually, is dedicated to bringing research about and by youth to global public and academic audiences. She recently curated an interdisciplinary, multi-lingual series on a community-based study in Almolonga, creating a platform for U.S. and Guatemalan scholars to share findings and analysis. The series blossomed into an interactive art exhibit currently circulating across the U.S., Mexico and Guatemala.
2018 Thomas I. Yamashita Prize - Honorable Mention: Elizabeth Clark-Rubio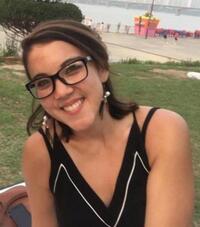 Elizabeth Clark-Rubio is an immigrant rights activist and ethnographic researcher. Currently a PhD student in Anthropology at the University of California at Irvine, she has organized teach-ins, direct actions, and ally trainings for faculty and staff in support of undocumented students. Her organizing has brought attention to the large number of AAPI undocumented students at UCI and helped to build collective power between on- and off-campus communities. She has also secured more resources for undocumented students at UCI; opened up spaces on campus for dialogue, education and strategizing around issues affecting undocumented students and immigrant communities; and participated in vigils and rallies in D.C. calling for a "clean" Dream Act. Her scholarship is directed at gathering, amplifying and organizing undocumented student stories into a platform for social justice and moving academics to engage in overt political action for collective struggle. Prior to graduate studies, Liz organized with undocumented Latinx immigrants affiliated with CASA de Maryland, a community immigrant rights organization in the Washington D.C. area. In 2013 she founded Yo Decido, an organization that combines legal, psychosocial and popular education services into a holistic care model for undocumented Latina women who are also survivors of domestic violence.
2017 Thomas I. Yamashita Prize – Winners: Nicola McClung and Arturo Cortéz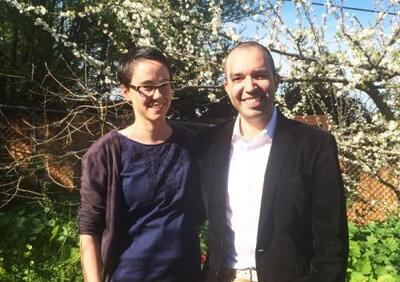 Nicola McClung is Assistant Professor of Learning and Instruction at the University of San Francisco (USF). Arturo Cortéz is Adjunct Professor of Teacher Education at USF and a doctoral candidate in Educational Policy at UC Berkeley. Together they founded Xóchitl Justice Press (XJP), a nonprofit organization that promotes a just and equitable society through publishing, community partnerships, education, and research. In 2014 Nicola and Arturo launched the XJP Book Project to partner with non-dominant youth to conceptualize, write and produce nonfiction books for beginning readers that are educational and representative of students' lives. With the help of USF pre-service teachers, over 50 books, featuring photographs of people and places from the youth's communities, have been published and shared with emergent readers in San Francisco's Western Addition and beyond, and many more are in production. The Book Project provides a venue for non-dominant youth to amplify their stories, as well as develop necessary literacy skills, while at the same time providing relevant and relatable books for young children and helping novice teachers learn how to leverage children's cultural assets towards social transformation.
2017 Thomas I. Yamashita Prize – Honorable Mention: Camila Cribb Fabersunne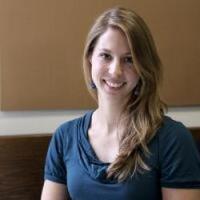 Camila Cribb Fabersunne is a resident in UCSF's Pediatric Leadership for the Underserved (PLUS) Program. Her work seeks to combat the school-to-prison pipeline by applying a public health lens. Dedicated to dismantling mechanisms of structural racism affecting children and families, Camila regularly convenes diverse stakeholders – from the school district, community organizations, social justice organizations, county Department of Public Health, and academics – to focus on the physical and mental health predictors of school suspension. School discipline policies have been connected with increased risk of defiant behaviors, poor school achievement, and likely increased rates of incarceration especially among students of color. By supplying the data and bringing together partners who historically have not worked together on this issue, Camila is leading a paradigm shift toward considering educational discipline and educational outcomes as public health issues.